What a great, long weekend. While we enjoyed our BBQ's and retail sales, I hope you took a moment to reflect on the heroes that have paid the ultimate sacrifice, and the ones they left behind.
The weekend's festivities got me thinking...about decorating, what else? Nothing says summertime like patriotic decor. OK, watermelon and flip-flops pretty much sum it up too but I'm trying to stay on topic here! And...Sorry I'm a couple days behind, but that's kind of the story of my life. In all fairness, Jacki and I ARE hard at work on an
ADORABLE playroom
!
Tablescapes like the one above are an EASY way to let out your inner patriot! Besides being patriotic, don't these three colors remind you of the beach and picnics and 150 degree NC summers? And, of course fun times spent with family and friends...near some sort of water.
Another budget friendly update is pillows and accessories of course! If you have a room with a neutral palette, try adding a few little touches to celebrate the season and our great country! I bought one of these from World Market last year and stuck it in my chocolate chair in a room painted spa blue. It was just enough to be festive but not too much. They are carrying them again this year and at under $20, it won't break the bank.
If you're not ready to go for a pillow, try something a little smaller like a candle holder. You can score some battery powered votives at the dollar store and not have to worry about the flame while you're entertaining.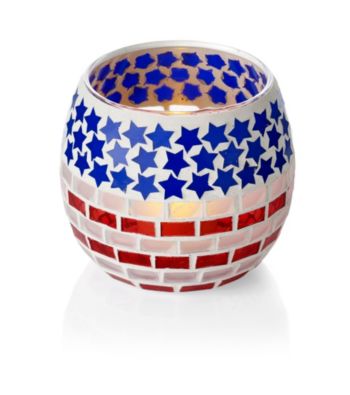 Sometimes, less really is more. Especially if the main color in your home is say, orange?!
Don't let a color clash dampen your patriotic spirit! Move the party outside. For many of you, that's actually possible.
Side note: I'm not talking to our NC readers. Ya'll just go back inside where the air condition is blasting, serve some cherry punch and call it a day.
For the rest of you, set a lovely table. It doesn't have to be elaborate. Some red and white layered tablecloths with blue, SOLO plates will do the trick (sorry Mom!).
Country Living
If you decide you're just too pooped to go the distance for a full-fledged tablescape, head to the grocery store and grab some white flowers (note: NOT carnations, they are hideous) and adorn them with mini flags. How cute is that?
Even though I'm a few days behind for Memorial Day, I'm WAYYYY ahead for summer and 4th of July. Consider this your reminder and get busy!

Last but not least...