Have a cramped dining space? A banquette can be your space savvy solution! It can be used as a casual dining spot, homework station, or a resting spot for reading the paper while sipping your morning coffee.
From Pinterest
When there's limited space to move a chair in and out, a stationary seat is the better option. This banquette fits snugly here, but doesn't appear cramped, as chairs most certainly would.
BHG.com
Pinterest
I have an old headboard in my garage that I've been debating turning into a bench for my farm table. I love this one that I found on the Freddy and Petunia blog.
Pinterest
I especially like the look of a corner seating area with a round table. How cozy!
This was the inspiration for Catherine's kitchen nook:
And this is how it turned out:
In case you can't commit to a true built in piece, there are other options. Like this curved, free standing piece from Overcourt.
World Market also has a nice option; the Hayden bench:
Whatever your size parameters, a built in banquette can be the answer to your decorating dilemma.
Hooking up with: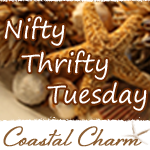 The Girl Creative