You know I LOVE Craig and his list. I'll tell you something else about me; two somethings.
1. I am cheap a bargain hunter.
2. I don't like to leave the comfort of my sofa. (I found it on Craigslist!)
My CL score: A sofa/chaise which also serves as my desk, where I write the masterpieces you enjoy!
Having sold MANY things on Craigslist, I understand in order to be the one who "wins the bid" so to speak,
you have to require nothing of the seller.
What does that mean? Well, you must not ask questions about the piece or make a low ball offer, OR God forbid, ask, "Is this still available?" Delete, delete, delete.
What gets my attention while selling is the same principle I've adapted for buying. Try this reply to the ad:
1. I'm interested in your Giant Velvet Elvis Painting.
2. I have a truck and an extra hand to help me load it.
3. I can come most anytime at your convenience.
4. I have cash in hand.
That's it.
No bargaining, no "what are the measurements", no "has it been peed on", no, no no. Make yourself available and negotiate when you get there when the seller does not want to see you walk away without Elvis.
That tactic worked when I scored this Pottery Barn Sullivan ottoman, which they no longer sell. Only when I was standing in the chick's living room did I dare to negotiate the price. She didn't want to go through the trouble to get someone else out to her house as a potential buyer any more than I wanted to start the search all over again.
Craigslist Lesson:
If it seems too good to be true, it probably is.
When to RUN like you are being chased by a bear:
1. Take note of the details in the photograph. Notice this rug is outside. Read between the lines here people. This rug has been peed on by this guy's pit bull more times than he can count. It's outside because he tried to hose it down, but alas, the sun dried it and it still smells like DOG and PEE.
Run.
2. Don't even think about buying some body's used mattress. I might be cheap, but even I will spring for a new mattress that doesn't have someone else's bodily fluids soaked into it.
Take note of the floral pattern on this mattress. I'm pretty sure mattress companies haven't made this pink, mint and lavender pattern in 25 years. And, I'll tell you what it's made of: 25 years of dust mite carcases. PASS.
3. Look up the address on a map. If it takes you across the tracks and through the "hood", think about your safety and ask yourself, "Is that mid-century Knoll chair worth my life?"
"Whad'up Detroit?"
NO. The answer is NO. (More on my adventures in downtown Raleigh next week). PASS.
4. When the reply makes the hair on your neck stand up. That's a sign that the seller is a serious freak. This example is fake (thanks to my buddy Carl), but you get the idea...
More next week on buying and selling on Craigslist like a PRO!

We're so thrilled to have been featured!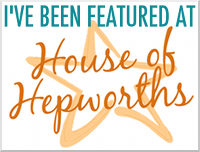 We're also linking up with The Dedicated House, Blissfully Domestic, and Shaken Together.