Whether your passion is tiny figurines or extra large old metal road signs, group them together and make a statement.
When I saw this display of vintage swimsuits I actually squealed out loud. I MUST have them for my beach cottage built in 1960.
Translation: I will ignore my children, obsess on ebay, not fix dinner, debate where to hang them, and generally do nothing else until my quest to find some is fulfilled.
A lone tea cup or solitary pottery piece may not say much, but en masse these objects add up to a powerful statement.
Vintage Milk Glass collection grouped together on a silver tray. Ahhh-May-Zing!
Our client had several pieces of this incredible Fenton glass in various rooms throughout the house. When we gathered it all up and placed it in this open cupboard; POW!
I have a few of these vintage tole trays in my home, but nothing like these collections.
My cousin, Stephanie used all black in her dining room and I'm crazy about them against the red backdrop.
Check out this great idea from Tim Melideo showcasing his passion for photography.
Why didn't I think of this
vintage brooch bouquet
for my own wedding? Dang!
What kinds of collections do you have in your home? We'd love to hear about them, or better yet, see the photos! Post your photos on our Facebook page.

We're so thrilled to have been featured!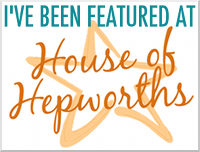 We're also linking up with The Dedicated House and Shaken Together.