Ah, Craigslist.... it's like a flea market, garage sale, antique shop, and 1980's party all wrapped up in a convenient, don't-have-to-get- off-the-couch, online package. Hopefully you read all my handy tips and advice on buying and selling with Craig. But today is just for fun, and funny... that is, it's funny now. Be warned that the following is a confirmation of why I will NEVER win mother of the year AND why I need a 12-step program to help me detox safely from Craigslist trolling.
When we were building our house, I was like a caged animal that had just been released. I was bound and determined to move into my new house in the morning and be rolling out rugs and hanging draperies in the afternoon. By evening on move-in day, the new place would look like a spread in Traditional Home magazine. To achieve this miracle, it would take a lot of obsessing careful planning. As usual I was trying to stretch my beer budget to accommodate my champagne tastes. Enter Craig and his list.
Here's my recollection of what is now being referred to as
Two of the boys were at preschool and my youngest son was with me. We piled in the mini-van for a cross country trip to downtown Raleigh. (Not really cross country; but I don't often leave my three-mile radius bubble, so a 20 mile trip involves packing a lunch and cooler--I'm not kidding!)
I had exactly 46 minutes to get there and back.
Usually I can accurately gauge the situation at hand and I rarely get the heebie jeebies or feel scared in an alley, etc. I grew up never having a locked door, so I'm not at all paranoid about being napped by the boogie man. And, most of my friends would agree, one DIY home improvement project with me and my captors would be paying Patrick to take me back.
SO, I was completely unprepared for the chill that ran down my spine when I turned the corner past the Governor's mansion into the straight up HOOD (
urban dictionary defined as:
a place where plenty of $*!# goes down like gangbangin', drug dealin', killin', a place where you wouldn't want to be.
)
This is pretty close to an accurate portrayal of my surroundings. Only thing missing is your neighborhood drug dealer and maybe a prostitute or two. I apologize but there really wasn't time to snap pics that day.
It would have been appropriate to let you know that we weren't in Cary anymore. However, the 2 year old in the backseat couldn't care less.
As my minivan refused to cooperate with my fifty-seven point turn to get into the parallel parking spot (on the street), I gazed up at the turn of the century marvel in front of me. I wish I had a picture, but that was a long time ago before blogging, so try to imagine it with me. Catherine tried to convinced me that it would be unprofessional not to include a pic and therefore we should try to find the place again and do a drive-by (photo) shooting, but I think I've blocked the exact location from memory.
So, you'll just have to use your imagination.
The house dripped in gingerbread trim. RED gingerbread trim. And not a good red either, a barfy rust-burgundy atop gray peeling siding that hadn't been painted since 1956. The wrought iron railing up the stairs was painted a different barf-red, as were the concrete steps leading to the rickety porch.
I took two steps at a time up the concrete crumbling stairs and stopped. A feeling of impending doom swept over me like a ton of bricks. I thought, hmmm, what if this guy is a psycho, axe murderer who is going to torture me and sell my child on the black market? I slowly backed up to my van and cased it for a weapon.
Daaaannnng! Nothing.
Why couldn't the kids have left a smelly cleated shoe or a bat or something? Oh yeah because they suck at sports and I refused to sign them up for anything else, therefore, NO sporting equipment to be found.
I reached under the seat and felt a plastic fork with some BBQ residue on it. That'll have to do.
Armed with my plastic fork (it might have even been a spork), my son and I rang the doorbell which was barely hanging on by it's wire.
Almost instantly a hippie-looking dude in a Bob Marley shirt appeared in the doorway. Shakily, I said, "I'm Jacki. I'm here for the settee."
His response set off more alarm bells in my head.
In a low, creepy serial killer kind of way, he says, "It's upstairs....in my bedroom...., come on up".
While there were alarms in my head, my heart was like, "Do it girl, you know you want to".
Frozen.
I did not move.
My son raced up the stairs like he was being chased by the rats who no doubt occupied many areas of this guy's house.
Still frozen.
Sensible me thought, I have to save my child from certain death, and scaredy-cat me said, forget the kid, you can make more.
My third son is a real charmer, and in that instant I knew I'd miss him if he were chopped to bits, so I gripped the fork in my pocket and climbed the stairs after him (and my settee).
Some kind of fear-induced adrenaline set in and my super-human strength and speed were realized. As quickly as humanly possible, I shoved $60 in the guys hand and threw that thing over my shoulder and ran back down the narrow staircase. He would have to catch me before he could chop me up!
I flew out the door and practically threw the settee down the steps just missing the back bumper of the minivan. Marley dude tossed the cushion over the railing to me and shut the door with such force, the dingleberry doorbell shook.
I took stock of myself and my child. We were alive and well, breathing not bleeding. Then it dawned on me that I had to put down all the seats to get the dang thing IN the van. Um, what to do with the kid? I glanced back at the door still reeling from it's abusive swing and thought, I need to just get out of here.
Another super power presented itself at that moment. The super-power to throw every single piece of junk in my van up to the front seat. I got all the seats down and the bench loaded in record time. At this point I am sweating profusely and cursing loudly as my son sits in his little booster seat on the sidewalk...in the hood.
He looked a lot like this!
I said, "Honey, we ran out of seats, do you think you could hide from the Po-Po and keep low?" You would have thought I had given him a bag of Jolly Ranchers. He squealed in delight at the prospect of riding in the car with no car seat. He jumped in as I was tossing the seat on top of the pile of clutter now residing in my front seat. I ran around to the driver's side jumped in and locked the doors. Whew. I took a breath and looked in the rear view mirror at my kid climbing all over the "new" bench in the back.
Just then, there was a Rap, Rap, Rap at my window. I jumped so hard I hit my head on the sunroof. It was a homeless guy asking me for money. I tried to crack the window, but the darn thing has the auto down feature, so of course it went all the way down where he could grab me. I frantically tried to raise the window while I pretended to look for some money. I didn't have any money because I just gave it all to Bob Marley.
In a squeaky voice, I said to the guy, "I don't have any money, but I have some Scooby Snacks." (Seriously, I told you I packed for a long trip.) We ate our bananas on the way, but the Keebler Graham snacks in the shape of dog bones remained in the bottom of the Transformers lunch box. (We travel in style.)
That answer seemed satisfactory so I rolled up the window and high-tailed it back to suburbia as fast as my mini-van would take me.
You may be wondering what treasure could've possibly warranted this adventure...
This fine creature:
Of course it was blah-brown and the upholstery was Grandma's floral, but I saw it's inner swan!
It sits in my bedroom in all of its fabulosity. Why you ask? Not because we're entertaining in there. Mainly for looks of course.
This is how it looks most of the time:
But, I think it fits perfectly in this little nook, don't you?
Six years later, (read: far removed from that crazy day downtown) I'm really happy I have it.
Disclaimer: Never try this for your home! Always apply common sense to any Craigslist transaction and trust your gut (unless yours also says "do it girl, you know you want to").
If this doesn't get your weekend started off right, I just can't help you!
We're linking up with Blissfully Domestic.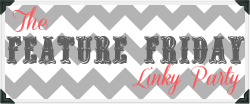 check out these great ideas:
l