Hey Y'all! I'm trying REALLY hard to get in the spirit of fall decorating. Retailers are strongly hinting that we should not only put a pumpkin on the front porch, we should go ahead and stock up on Halloween candy (BIG mistake folks, trust me on this one!).
I must confess that even with all the subtlety of Target and the like, I am still not motivated to git 'er done since it's 90 degrees outside. Alas! The weatherman promises fall weather will be upon us- tomorrow!!!
But the heat isn't my only barrier to Southern Living worthy seasonal decor! It's kind of a pain to get all that stuff out and arrange it. Fear not, the following are tips that even seasonal decorating slackers like myself can use.
If you can do nothing else, get a wreat

h, (or two if you have double doors like Jacki)
Even if they don't say it, the UPS guy and your neighbors appreciate a nice wreath on your door. If you have even one ounce of talent, you can make a nice one from a few materials gathered at your local craft store. If you have NO talent in the wreath making department, find a talented friend. Lucky for me I have Jacki :)
If you have no talented friends, the fine folks at AC Moore or Michaels can whip up something for you in no time.
HGTV.com
You can see this stoop didn't stop with a wreath. Add a few mums and a pumpkin or two and voila, you've got a fall vignette for the world to see!
bhg.com
Go all the way!
What I mean is ... decorate for fall, not Halloween. Sure, if your inner Martha Stewart is getting antsy and you want to go all out with goblins and ghosts, have at it.
For the rest of us that practice good (enough) seasonal decorating, my suggestion is to focus on fall decor vs. specific spookiness.
Martha Stewart


If you decorate with leaves and pumpkins, you can start now and won't have to haul it all back up to the attic until the day after Thanksgiving. You can always work in a few Halloween specific items during October for a little flair! Just don't forget to take them down on November 1. Nothing says tacky like Halloween in February.
Swiss cheese pumpkin rat tutorial coming soon!
BONUS: When you do pack it all up and head to the attic, you can grab the Christmas stuff.
Pace Yourself!
Not only am I a bit lazy about seasonal decorating, I'm kinda cheap too. Sure, we all want to zap our homes with a retail wand and have a catalog worthy mantle but Rome wasn't built in a day. You can add a little bit to your collection each year and supplement with some natural decor such as seasonal flowers or foliage at your home or maybe your friend's home (Again, thankful I have Jacki!).
If you buy one or two artificial pumpkins each season, in a few years you'll have a beautiful collection. Bonus: They won't rot in the compost pile.
This one, Jacki "bedazzled" with one sheet of stick on jewels from the craft store.
Focus on the front!
Work some magic at the front door, inside and out. Even if the rest of your house doesn't have all the little fall touches, you can at least decorate a vignette in the foyer. Afterall, it's the first thing your guests will see when they visit.
Keep it simple!
No need to go crazy draping every horizontal surface with leaves and corn husks. A simple threesome of mercury glass pumpkins will take your decorating from September through November.
I hope we've inspired you to get your house ready for the upcoming beautiful season of football, falling leaves and cooler weather--at least just a little!
Have a great weekend!
If you are visiting from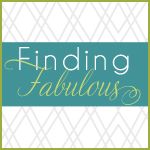 The spider felt came from Michael's craft store. A little hot glue and some black rhinestones and viola! Fancy pumpkin!
Check out the fantastic, frugal ideas on the Shabby Nest: