I started with three pumpkins of varying sizes, some fall picks, leaf garland and grapevine garland.
This urn was lying around the backyard, so I tossed out the dirt and the dead plants to up-cycle it for its new purpose; my base.
These are the three pumpkins I chose, mostly because that's all that was left at A.C. Moore. Geez, do I have to start my fall decorating in July? The fall section was almost wiped out already.
Some natural burlap-y ribbon for my bow on top.
My garland was on sale for about $4 a strand. I used two.
After combining the leaves and the grapevine, use your hot glue gun to adhere it to the urn. This was super-frustrating because my gun was leaking all over the place. OOOH! Doesn't Craftsman have a guarantee? Hang on while I go get it out of the trash can. I WILL drive 11 miles across town to Sears for a new one, just not today.
Ok, I'm back. Hmmm, I still have some holes where you can see the dark abyss of the bottom of the concrete pot.
Solution: Stuff the holes with random fall picks, twigs and berries.
After you get your base looking full and festive, the next step is to add a medium pumpkin to your totem pole.
Well, now that the hot glue gun is out of commission, I had to get creative and come up with a way to affix the pumpkins so they'd withstand some fall breezes and rowdy trick-or-treat'rs.
Continue adding pumpkins until you are happy with the height of your topiary.
This makes me hungry. But it did the trick! The foam (or whatever these things are made of) was just soft enough that it was easy to poke the wooden skewers through without using any tools.
Now, you repeat Steps 2-4 until you have the desired number of layers. If you go higher than three I would suggest adding a dowel to the center for support.
This is a gift for Catherine. I'll be taking it over to her house tonight after we study for a Geography test (6th grade is really hard btw).
Hers is a little more "embellished" than mine. I promised last week I would show you how I made my pumpkin topiaries, so here they are.......
This is what my front porch pots look like most of the year. I add spring flowers and Christmas lights, so these planters are very versatile.
I kept mine fairly simple since there are two planters and they are four pumpkins tall.
About every two or three years, I have to give my pumpkins a fresh coat of spray paint because they fade in the sunlight. The initial investment was well worth it though, because I can add a bunch of real ones to the mix without breaking the bank.
I used a dowel rod on my topiaries for support.
This year I added some grapevine to my pumpkins to give them a little more texture.
Here's how I replaced the faded flower buckets! For $25 I couldn't pass them up!
To sum it up, this year, I added a fresh coat of spray paint, a new fall garland and some grapevine. I have some Halloween bat lights that I'll bring out in October along with whatever kind of crazy jack-o-lanterns the kids carve.
I hope you enjoyed the tutorial. We'd love to see what you create with artificial pumpkins!
For more fall decorating ideas check out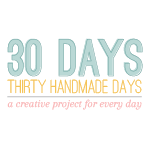 div align="center">